Your Solution for Efficient IT Helpdesk Support
Modern businesses rely on technology, but the challenges that come with it can slow you down. When you and your employees need technical support, we've got you covered.
We offer responsive helpdesk services that you can depend on to keep your business up and running. Our team has over 500 years of IT experience combined and is ready to assist you, no matter where you are in Orlando or across the globe.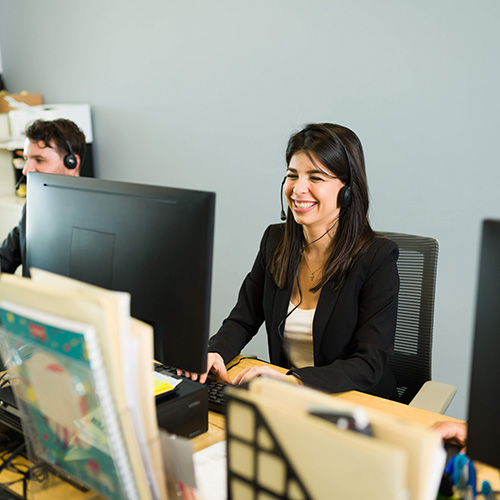 Our Helpdesk Services Promise:
Quick Issue Resolution: Rapid solutions to keep your business running smoothly.
24/7 Support: Round-the-clock assistance for peace of mind.
Expert Technicians: Highly skilled professionals at your service.
Remote Assistance: Resolve issues without waiting around for a tech to come to you
Proactive Problem Solving: Identifying and addressing potential IT concerns.
User-Friendly Guidance: Friendly support to empower your team.
 Benefits to your business
Efficient Helpdesk support can significantly impact your business by providing:
Minimized Downtime
Faster Issue Resolution
Proactive Monitoring
Rapid Response
Streamlined Workflows
Automation Integration
Performance Optimization
Scalable Solutions
Technical Troubleshooting
IT Maintenance
Security Management
Disaster Recovery
Frequently Asked Questions
What is an IT Help Desk?
An IT help desk is a solution for organizations seeking IT support and involves using dedicated teams or services to assist users with technical issues and inquiries. Whether it's a virtual help desk or a physical support center, outsourcing your helpdesk offers a cost-effective way to ensure your team and customers get the IT support they need.
What are the responsibilities of an IT help desk?
Helpdesks provide technical support, troubleshooting problems, and ensuring your workstations and networks run smoothly. When issues arise, they're there to identify and resolve them, guiding clients through solutions for a seamless IT experience.
How To Know a Help Desk is right for your IT Needs?
Opting for Help Desk good business sense. It not only trims IT support costs but ensures swift issue resolution and top-notch customer service. With HDaaS, you can focus on your core operations while expert help desk teams manage the technical aspects, leading to improved productivity and user satisfaction.
How Does Helpdesk Benefit Your Business
Help Desks cut IT support expenses, deliver faster problem resolution, and elevates customer service standards which enhances operational efficiency and creates a positive impact on your bottom line.
What are the Role of Help Desks in IT Problem Resolution?
They investigate issues, provide answers, and skillfully resolve technical problems. Moreover, they ensure your workstations and LANs function seamlessly, keeping your team's workflow disruption-free.
What Are The Best Practices for Setting Up a Help Desk?
Establishing an effective help desk involves using the right processes, hiring the right support staff, and building a knowledge base, and continually improving your support practices. Tailoring your help desk to your organization's unique needs is the key to success.
Discover Seamless IT Support
 Unleash your business's potential with our Helpdesk Services. We're here to make IT support easy, so you can focus on your core operations. Get in touch today to learn more.